History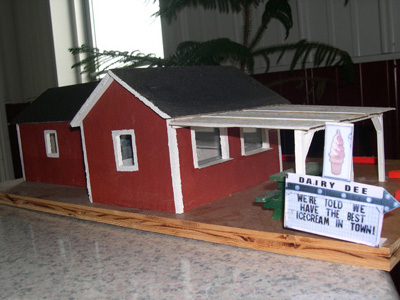 The Dairy Dee was established in 1974 when Sumner gasoline station operator Clifford Brian opened a soft serve ice cream shop in a small building on property next door to his service station.

Clifford and his wife Joanne operated the Dairy Dee until 1986 when they sold the business to Sumner residents Keith and Ethel Mae Routien. The Routiens operated the Dairy Dee until 1996. Along the way, a few sandwiches were added to the menu; and this part of the worlds' famous Dairy Dee Coney was born.
In 1997, the Routien's sold the business to a partnership formed by sisters Janice Scherer and Margaret Brian and their husbands Eldon Scherer and W.R. "Bill" Brian.

In 2003 the partners embarked on the first major expansion in the Dairy Dee's 29 year history. The original building was razed and a new more spacious facility was built on the original site. Three new ice cream freezers were added, giving Dairy Dee the capacity to offer its well known "Five Soft Serve Flavors Every Day." The sandwich and hot food menu grew as well, with the addition of countertop fryers.

In 2006, Eldon and Janice Scherer acquired full ownership of the business. The Dairy Dee continues to grow, both in ice cream product offeirngs as well as hot food. In February, 2008 the new smoked menu was revealed. In 2010, the ice cream choices increased to "Seven Soft Serve Flavors Every Day."

The Sumner Dairy Dee remains a seasonal (Mar/April til early Fall) store.
Dairy Dee and the Diabetic Legacy
Ironically, a member of each ownership regime was or is diabetic.

Dairy Dee founder Clifford Brian (1974 - 1986), Keith Routien (1986 - 1996), and Eldon Scherer (1997 - present).

Stop by and ask Eldon why to this day, despite his being diabetic, the Dairy Dee does not offer sugar free soft serve.